"K computer" Achieves Goal of 10 Petaflops! - Nov 2011
(press release )
The "K computer," which is a supercomputer currently under joint development of RIKEN and Fujitsu, has achieved a LINPACK benchmark performance of 10.51 petaflops (10.51 quadrillion floating point operations per second). The supercomputer system used for these tests is in its final configuration of 864 racks, comprising a total of 88,128 interconnected CPUs. With an execution efficiency of 93.2%, this system further exceeds its first place winning performance on the 37th TOP500 list international ranking of supercomputers published in June 2011, where it scored 93.0%.
(For more information, please see the press release.)

Although development is still underway to adjust the system software, the K computer achieved the goal of a LINPACK score of 10 petaflops, a performance target set as a national core technology as part of Japan's 3rd Science and Technology Basic Plan.

Having reached its performance target, the K computer is quickly moving toward completion. RIKEN and Fujitsu will be focusing their energies on developing and assessing system software for the large-scale K computer with the aims of system completion in June 2012 and the official beginning of its shared use in November 2012.
"K computer" Achieves Goal of 10 Petaflops!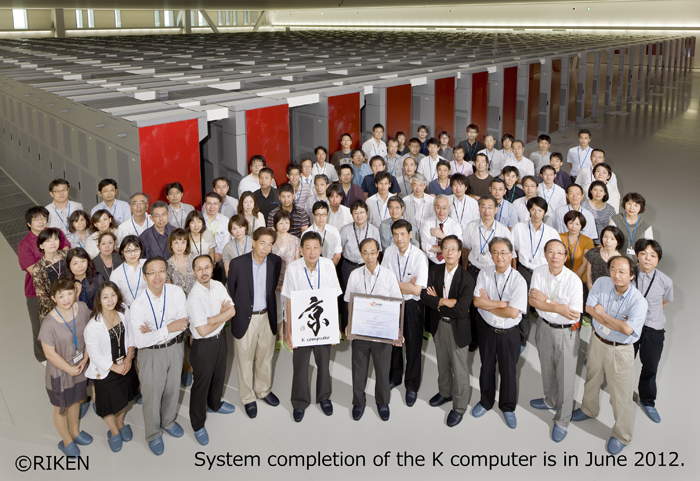 K computer album
The latest installation status of the K computer
  October 26th, 2011
  October 14th, 2011
Chlonicle state of pictures up to June 2011